Therapeutic Massage
60 minutes: $85 (includes non-member day pass – $25 value and gratuity) Our Therapists release your chronic patterns of tension through slow strokes and deep finger pressure in concentrated areas. Per your request, the Therapist can apply pressure by stepping on your back.
Whole Body Scrub
Men: 30 minutes – $60 (includes non-member day pass – $25 value and gratuity) Women: 45 minutes – $75 (includes non-member day pass – $25 value and gratuity) The fabulous service "exfoliation of dead skin cells" is done by a Specialist using specifically designed serub towels to exfoliate the skin. You will be speechless after experiencing our body scrub.
Fitness Center
Visit our Fitness area and test yourself on our top of the line Precor cardiovascular equipment, Nautilus strength and free weights. Our staff is always available to instruct you on the use of all of our equipment.
REJUVENATION AWAITS you
at Philadelphia's FIRST and ONLY Korean/Japanese style spa. So unique that it's the only one of it's kind in the entire state of Pennsylvania.
Chung Dam Spa & Fitness invites you to experience the proven health benefits of authentic asian baths. We feature a Hot Jade Stone Room, Hot Yellow Clay with Charcoal Room, Warm Granite Room, Lower Body Bath Tub, Therapeutic Massage, Whole Body Scrub, Body Scrub and Massage, Herbal Steam Sauna and Fitness Center.
Our facilty is new and features state-of-the-art equipment. We provide amenities that are not normally offered by other spas and combined with our fully experienced staff, your time at Chung Dam Spa & Fitness will be an exclusive and unique success, which will have you coming back for more. We are conveniently located in the Melrose Shopping Center on the border of Philadelphia in Cheltenham, PA. We also have ample free parking.

 See our new video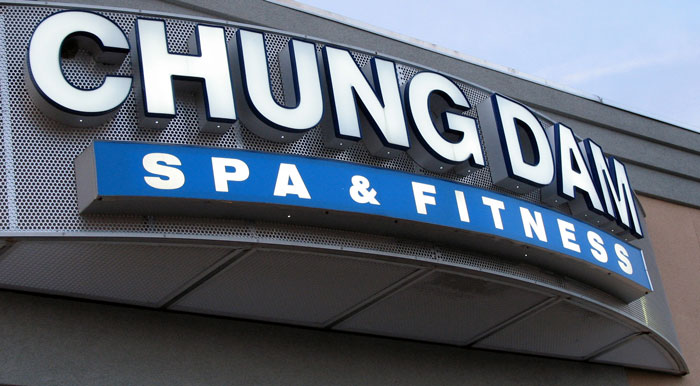 There is something new for everyone at Chung Dam Spa & Fitness.